Home & Garden
Home & Garden
Our gardening range covers a wide selection of environmentally friendly products which perfectly fit in with nature's green environment.
If the products are installed correctly they will preserve their colour, shape and strength.
These products are resistant to herbicides and fertilisers, they are not broken down by the sun's UV rays, they never decompose nor rust and do not require any maintenance.
Read more about each product by clicking on the different links/images to the right.
Drainage
A relatively simple method to channel back rainwater into a natural water cycle using the BIO-BLOK® rainwater drywell.
» Read more
Fencing

Different forms of fencing by use of nets.
» Read more
Handling of Rain Water
Different ways of handling rain water.
» Read more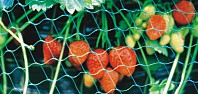 Protection
Nets for different types of protection.
» Read more
Reinforcement
Different kinds of reinforcement by using nets.
» Read more
Roof Constructions
Net products in all shapes and sizes for use in different places in connection with roof constructions.
» Read more
Screening
A diversity of products used for screening.
» Read more
Shading
Different types of nets used for shading.
» Read more
Stabilisation
Different kinds of stabilisation by using net.
» Read more
Support
A range of nets for support of climbing plants.
» Read more
Ventilation
A number of diverse products that allow ventilation.
» Read more
Windbreak
Different types of net fences and tubes for windbreaking.
» Read more