Brochures
Brochures and data sheets
Find inspiration in our brochures which e.g. in details describe various fields of applications of the more than 700 products which we have included in our range of products – or dig deeper into details in our data sheets.
Click on the links below to see further details on individual product categories. You can view and/or download brochure material, and you are of course also welcome to contact us if you require hard copy brochures.
Brochures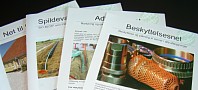 View or download our brochures for the different areas of application by clicking on the image above.