Agriculture & Horticulture
Agriculture & Horticulture
The selection of products for the "Agriculture & Horticulture" area covers a wide range – from nets for protecting trees, nets for different areas of application in chicken farms and nets which protect wine plants and prevent birds and insects from entering the area, to nets which protect against the backfilling of roads.


Read more about each product by clicking on the different links/images to the right.
Anti-Bird Netting & BOP Nets
Protects garden produce and vineyard crops from birds and prevents birds from entering e.g. barns and stables effectively.
» Read more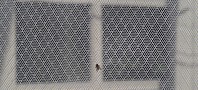 Insect Netting
A perfect product for keeping out insects, but still allows fresh air in.
» Read more

Mole Stop
Protects private gardens as well as public grass or playing fields against mole attacts.
» Read more

Poultry Net
Soft net for "floors" in cages – protects sensitive hen feet.
» Read more

Shading Netting
Effective protection against the sun's rays.
» Read more

Snow Fencing
Effective prevention of drifting snow.
» Read more

Tree Guard Mesh & Vine Nets
Protects fruit trees and bushes against damage to the bark caused by rabbits and other animals.
» Read more

Windbreak - Animal Farming
A number of products which meet the current animal welfare requirements for barns and stables with natural ventilation.
» Read more

Windbreak - Horticulture
Creates a peaceful and environmentally friendly atmosphere in the garden and protects the plants against the wind.
» Read more